Hoi,
This will be a rather special post as I will try to write it both in Dutch and in English, today I am uploading the Dutch version and later this week I will put up an English translation, so my English speaking friends will have to make do with the pictures as we say in Dutch "Luckily we still have the pictures" ;-) .
De nieuwe versie van Killteam unboxed! Soms is het handig om één van de huisschilders te zijn van je Vriendelijke Lokale Spellen Winkel, toen men mij vroeg of ik wellicht een "Unboxing verslag" voor de nieuwe versie van het Killteam spel van Games Workshop wilde maken, greep ik die kans natuurlijk met beide handen aan.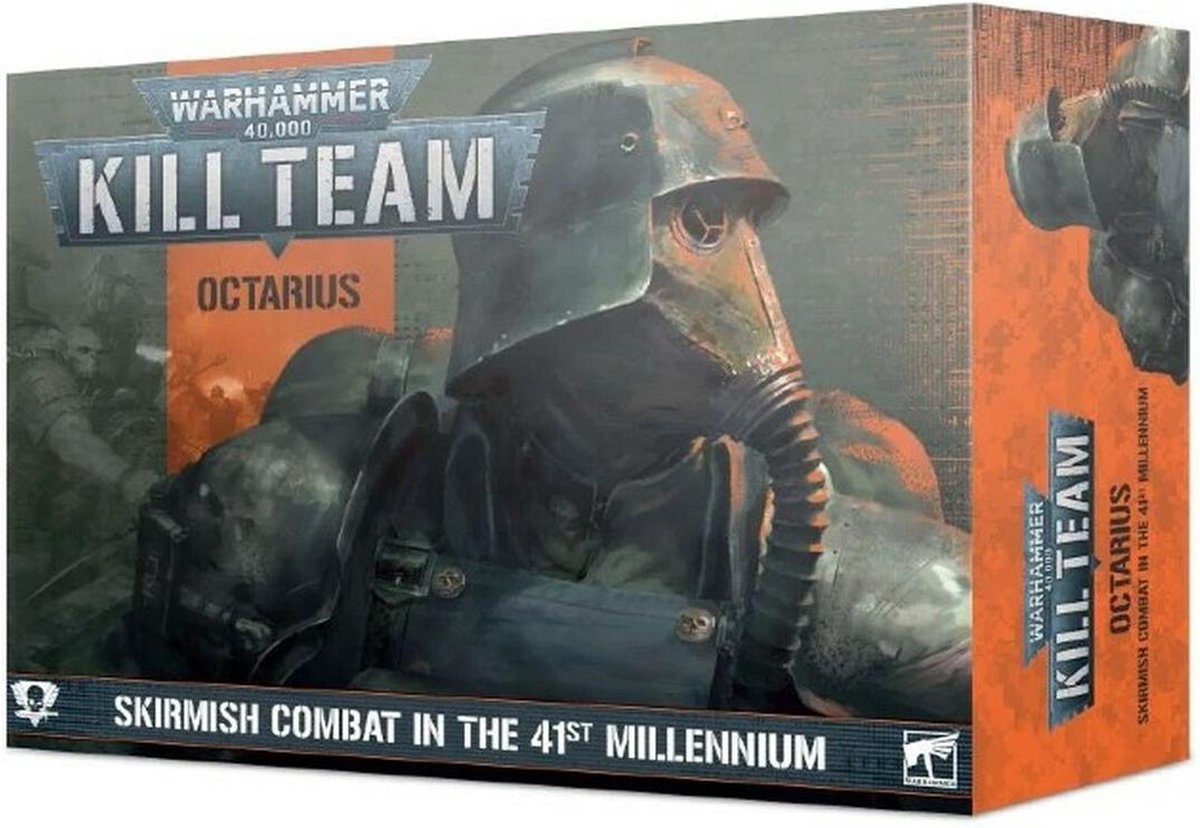 Deze doos bevat een gezonde hoeveelheid figuren, terrein en andere spelbenodigdheden, ik zal proberen zo duidelijk mogelijk alles te benoemen. Een beschrijving van de spelregels zal moeten wachten, want ik heb nog geen kans gehad om de boeken goed door te nemen, maar ik kan al wel aangeven dat die afwijken van de vorige versie, meer informatie hierover is ook te vinden op de website van Killteam zelf.
Als men de doos open doet treft men de grote hoeveelheid plastic rekjes aan die alle figuren en gebouwen bevatten. Gaan we die een voor een langs dan zien we het volgende,
De gebouwen:

Enkele van deze rekjes zitten 2 maal in de doos zodat hetzelfde gebouw ook 2 maal kan worden gebouwd.

De figuren van het Death Korps of Krieg:
De Orc Kommandos
De rekjes bevatten genoeg onderdelen om 10 soldaten van het Death Korps te maken, alsmede 10 Orc Kommandos, 1 Gretchin en 1 Squig.

Barricades en speltoebehoren:
Andere speltoebehoren bevinden zich onder een stuk karton om ze tegen beschadiging door het plastic te beschermen.
Deze omvatten 10 dobbelstenen (oranje met zwarte stippen en zonder factie logo, die zijn apart verkrijgbaar), kartonnen tokens, twee identieke sets met kaarten, een stevig kartonnen speelveld dat bedrukt is aan twee zijden, drie boekwerken; een gids om de figuren en gebouwen in elkaar te zetten, het regelboek en een boek dat de oorlog in de Octarius Sector (is het gek dat ik die in mijn hoofd de ORCtarius sector noem?) beschrijft waarin ook de regels voor de Death Korps en Orc Killteams beschreven worden alsmede de scenarios voor de Octarius Oorlog.

Als laatste zijn er dan twee blaadjes met watertransfers (decals) voor de Orcs en Death Korps. Op het Death Korps blaadje staan markeringen voor Infantry (regiments nummers) voertuig markeringen, campagne markeringen en markeringen om een mijnenveld aan te geven.
Voor de Orcs zijn er algemene symbolen, maar ook symbolen voor alle grote bekende Orc Clans.
De uitvoering van dit alles is van een relatief hoge kwaliteit en oogt degelijk, de figuren zijn gelukkig niet in een mono pose, maar met onderling uitwisselbare armen gemaakt en met name de Death Korps figuren bieden hierdoor veel flexibiliteit.
Zijn er dan geen minpunten te bedenken? Nou een paar kleine dingen dan; zo had het GW gesierd als ze een zip-bag hadden toegevoegd om de tokens en dobbelstenen in te doen. De dobbelstenen ogen van een wat mindere kwaliteit, maar hebben het juiste aantal stippen dus voldoen, met factie dobbelstenen voor de Orcs, Death Korps, Adeptus Astartes en Chaos verkrijgbaar hoeft dat echter geen probleem te zijn. Bovendien kun je nooit genoeg dobbelstenen hebben en hier is dan een mooi excuus om nieuwe te kopen nietwaar? Het speelbord en de gebouwen hebben een overduidelijk "Orc-achtig" thema en wellicht was het handiger om meer algemene gebouwen te gebruiken om meerdere strijdtonelen mee te creëren.

Afsluitend ben ik blij verrast met de inhoud van deze prachtig uitgevoerde doos voor Killteam, op verschillende sites is de doos al uitverkocht, mijn FLGS, Het Hobbelpaardje in Roermond, heeft er nog een aantal staan die vanaf zaterdag de 28e augustus te koop zijn.
Hopelijk kan ik in de toekomst wat van de beschilderde figuren en gebouwen uit de doos hier laten zien.
Cheers Sander